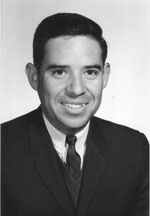 Rio Grande City, Mercedes, McAllen, and Melhart Music Center
Ramon Aguilar, III was born January 3, 1938 in Laredo, Texas, to Ramon Aguilar, Jr. and Concepcion Fuentes Aguilar. He was born into a musical family. He attended St. Joseph Academy in Laredo for his elementary and junior high years. During this time, he began piano lessons at the age of 9, with his father being his first teacher.
Ramon attended Martin High School from 1952-54 and played in the Tiger Band under the direction of Ed Holt. He learned to play the clarinet as a freshman at Martin High School. He was given a clarinet book and sent to a practice room by Charles Hayes, the assistant band director. In the spring semester, he was moved to the performing band and sat last chair in the clarinet section. By his sophomore year, he was challenging for 1st chair.
In 1954 his family moved to Brownsville. His father became the band director at St. Joseph Academy. Ramon went to Brownsville High School and became a member of the Golden Eagle Band under the direction of James Murphy. Sectionals were held every day before band, and band rehearsal would last long after the student body had gone home. Roy Norton was the assistant band director. The two years that he was in the BHS Golden Eagle band were a great musical experience. Ramon graduated from high school in 1956.
Upon graduation from high school, he received a scholarship to the University of Texas and was a member of the Longhorn Band, the "Showband of the Southwest" as well as the University's Symphonic Band. Joe Frank Elsas was the director of the Symphonic Band and Vincernt R. DiNino was the director of the Longhorn Band. In January of 1961, Ramon marched with the Longhorn Band in John F. Kennedy's inaugural parade in Washington, D. C. While in the Longhorn Band, he went to all the football games and bowls that UT participated in.
In 1961-63, he got his first teaching job in Rio Grande City, Texas. Roque Guerra was the head band director then. Marion Busby had recommended Ramon for the job. Also teaching there was Victor Lozano, a high school friend from Laredo and a graduate of the University of Texas.
Ramon taught in Mercedes with Avie Teltschik from 1963-68, as an assistant band director in high school and director of the junior high school band. From 1968-76 he was the high school band director. His bands earned several Sweepstakes during his stay in Mercedes.
He received his Bachelor of Music Education degree from the University of Texas in 1965. In 1967, he went to North Texas State University in Denton, Texas and earned his Masters of Music Education Degree in 1971.
In 1976 Ramon was hired by Gary Zook, then director of the McAllen High School Band, to be the director of the Lincoln Junior High School Band. While at Lincoln, his bands received several Sweepstakes. Also, two of his bands were selected Best in Class AA, at the McAllen City of Palms Band Festival. In the 1983-84 school year, the top band advanced to the Texas Music Educators Association Honor Band contest as a Finalist, and earned fourth place in the state.
In 1980 he married Marcy Landez, and they had a son, Ramon Aguilar IV. In 1985 Ramon moved to Morris Junior High, which later became Morris Middle School and worked there for the next ten years. Under his direction the Morris Symphonic Band earned nine Sweepstakes. In June 1986 his wife, Marcy, passed away. Ramon retired from teaching band in June 1995, after an enjoyable 34 year career.
From 1996 to 1998 Ramon tutored clarinets at Edinburg North HS, Memorial MS, and South MS. During the 1997-98 school year, he and Art Ratley started a beginner band at St. Paul's Lutheran School in McAllen, teaching there for a year and a half. To stay active in his music career, he started teaching private lessons on flute, clarinet and saxophone at Melhart Music Center, which he is still doing today.
Ramon is a member of Kappa Kappa Psi, the University of Texas Longhorn Alumni Band, Texas Bandmasters Association and Texas Music Educators Association.