Welcome to Melhart.com!
The Melhart family has been doing business in South Texas for 54 years starting back in 1969. Going from Corpus Christi to our long time location in McAllen, we have been specializing in great customer service for five decades.
Each department constantly monitors advertising nationwide to make sure you always get the lowest price possible. If you would like to play, listen to, or learn about the latest gear in a relaxed atmosphere, then come on in and talk to one of our sales staff.
We strive to provide the highest quality products in the market. Please call us if you have any questions.
Hours & Location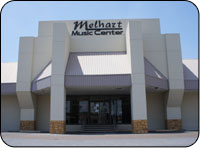 Music Store Location
3325 North 10th St.
McAllen, TX 78501
(956) 682-6147
Music Store Hours
Monday - Saturday:
10:00 am - 6:00 pm
Sun: Closed
Music Furnishings
Band Towers, Instrument Storage Cabinets, Conductor Equipment, etc.
(956) 609-9306
Factory Hours
Monday - Friday:
8:00am CST - 5:00pm CST