Mariachi Instruments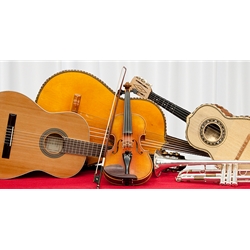 Mariachi is a genre of Regional Mexican music that dates back to at least the 18th century, evolving over time in the countryside of various regions of western Mexico. The usual mariachi group today consists of as many as eight violins, two trumpets and at least one guitar, including a high-pitched vihuela and an acoustic bass guitar called a guitarrón, and all players taking turns singing lead and doing backup vocals.

Melhart Music Center offers a wide selection of hand-crafted mariachi instruments from luthiers such as José Juan Hernández and Salvador Hernández. At Melhart Music Center you will find everything for your mariachi group. We have all of the major mariachi instruments such as guitarrones, vihuelas, classical guitars, violins, and trumpets as well as all of the accessories. We also have bajo quintos for other regional musical styles.

We acquire our instruments directly from their luthier shops in Nuevo León, México.