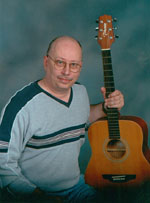 Kelly Gaulke has been teaching people of all ages to play the guitar and piano for over 40 years. Before moving to Texas in the 1980's he led a rock band in Iowa that won first place in three midwestern Battle of the Bands contests. He has two college diplomas, one for Piano and one in Music Education. Kelly can teach you or your child to play the piano or the guitar "by the book" or "by ear".

If interested in lessons, come to the store to fill out the registration form. An instructor will contact you to confirm and when to begin lessons.

Or Call us at (956) 682-6147.